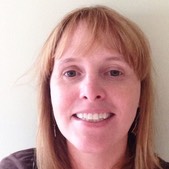 Rhiannon Gallagher, Principal Consultant
Once upon a time, Rhiannon was an urban geographer and English major. She spent her days writing, reading, and reveling in stories of cities and landscapes.
Her interest in online communities set her on a new path: applying the ideas and techniques of human geography (sense of place; sense of ownership; signage and orientation; community-building) to virtual settings. But she quickly discovered that many virtual environments were more difficult to navigate than the Paris Metro and more alienating to users than Boston's street signs (or lack thereof).
She has been working in virtual design, training, and usability ever after.
More recently, she has applied her navigation, simplification, and design skills to personal histories, and to finding ways of making history generally more accessible and interesting to children.
In the physical world, she can be found hiking, beading, gardening, and mothering in Wheat Ridge, CO.
Virtually, she is on LinkedIn at: https://www.linkedin.com/in/rhiannongallagher