Heuristics: An ROI, Rationale,  Sales Story
Sometimes it is hard to sell usability services to stakeholders. They're sure their intuition is all you need, or they want numbers to rationalize the expense. Analysis provides both tangible value and ROI. 
One company asked for competitive heuristic analysis, sure their site would show well against their competitors. When they got a 47% and their main competitor got an 86%, it was startling. When they failed the Section 508 portion, meaning that government agencies would need to go with more compliant competitors, they got very motivated on the usability front.
Finally, their heuristic scale gave them an ROI benchmark. After interface changes, we ran the same heuristic again and they could show the better numbers and use their relative success in marketing and competitive sales.
Heuristics 
Standardized criteria provide a foundation of interface improvement. A heuristic is a set of standard criteria to evaluate the basic structural usability of a website or application. If available, the same criteria can also be applied to competitors. This gives us a tangible ROI metric as we make changes and improve interfaces.
Web Analytics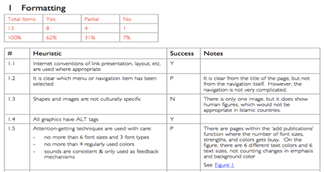 You're logging it, why not use it? The evaluation and tuning of web analytics, from Google Analytics, Omniture, etc. provides insight for user journeys, vocabulary, points of interest, and points of confusion.
User Data Repository 
You know more than you think you know. We compile the wealth of user data from the minds, inboxes, and records of everyone from sales people to customer support reps. With this repository, there is a single source of user data that can be maintained and updated regardless of the personnel involved in any project.